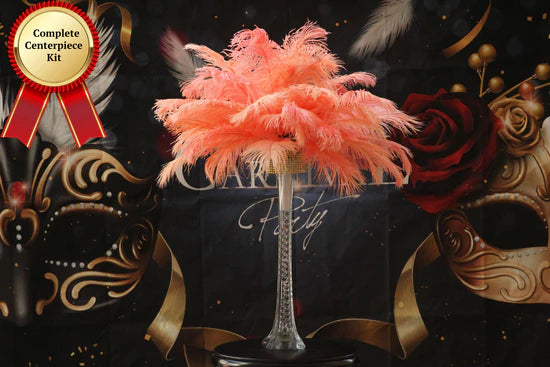 Are you looking for a unique centerpiece idea for your upcoming event? Look no further than ostrich feather centerpieces! These elegant and sophisticated centerpieces are sure to impress your guests and make your event one to remember. In this post, we will provide a step-by-step guide on how to make ostrich feather centerpieces that will have your guests talking for weeks to come.
Materials Needed:
Eiffel Tower vases or trumpet vases
Foam bouquet holders
Optional: Floralytes, water beads, centerpiece mirrors, light bases
Step-by-Step Instructions:
Insert the Ostrich Feathers: Begin by pushing the quill ends of your ostrich feathers into the foam bouquet holder. To achieve a fuller appearance, use ostrich plumes rather than drabs. Start at the bottom and work your way in a circular, upward motion towards the top of the foam holder. Be sure to place taller feathers towards the bottom and smaller feathers towards the top. Pro Tip: For a slight arch in the ostrich feathers, assemble your centerpieces several days in advance, but do not activate the Floralytes until the day of.

Place the Foam Bouquet Holder into Vase: Once the ostrich feathers are securely in place, insert the foam bouquet holder into the vase. If you are using Floralytes, insert them into the vase first, then place the foam bouquet holder stem into the vase. Tie the Floralytes to the floral stem at your desired length using the attached string.

Accessorize: Personalize your centerpiece by adding optional materials such as water beads or centerpiece mirrors. Light bases can also be used for a dramatic effect.
Tips for Getting the Most Out of Your Ostrich Feather Centerpiece:
Optimal height for your centerpiece is between 24" and 28".
Use 2-3 Floralytes per vase, which last for 36-48 hours each.
Ostrich plumes provide a fuller appearance than drabs.
Do not throw away your centerpieces! Everything except Floralytes can be reused for future events.
In conclusion, ostrich feather centerpieces are a unique and sophisticated option for any event. By following our step-by-step instructions and utilizing our tips, you can easily create a stunning feather centerpiece that is sure to impress your guests. Not only are these centerpieces beautiful, but they are also reusable, making them a cost-effective option for future events. Give ostrich feather centerpieces a try and elevate your event to the next level.