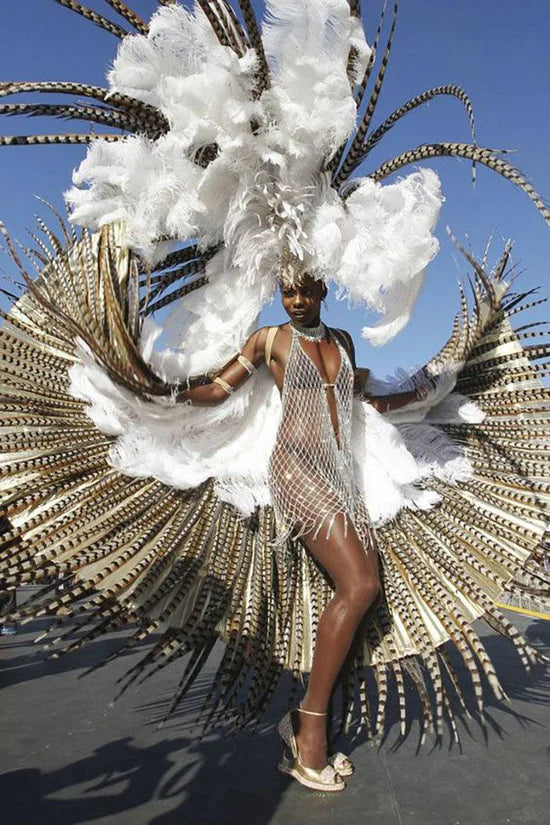 Ostrich feathers have been used in bridal and formal wear for years, adding a touch of glamor to any ensemble. Whether you're looking for something subtle or dramatic, ostrich feathers will give your look that extra wow factor it needs. From headpieces and veils to centerpieces and accents on gowns, this versatile material is sure to make an impression at any event. In this article, we'll discuss the history of ostrich feathers in fashion as well as some tips on how to incorporate them into your own wardrobe.
The History Of Ostrich Feathers In Fashion
Ostrich feathers have been a staple of formal and bridal wear for centuries. Their luxurious texture and natural beauty make them the perfect accessory to add an elegant, glamorous touch. The tradition of using ostrich feathers in fashion dates all the way back to Ancient Egypt where they were often worn by pharaohs as part of their headdress or even woven into elaborate gowns.
By the 19th century, ostrich plumes had become popular with high society women who wore extravagant garments adorned with these striking feather details at social events like balls and galas. Queen Victoria was said to be especially fond of wearing feathered hats made from the long tails of ostriches. During this era, ostrich farms sprung up across Europe to keep up with demand for both live birds and their coveted plumage.
The 20th century saw a huge resurgence in popularity for ostrich feathers on the catwalks of Paris and London's most fashionable boutiques. Feather boas became incredibly desirable accessories that could instantly transform any outfit into something more glamorous while wedding dresses featured beautifully intricate designs crafted out of delicate feathers and lace.
Today, designers continue to find ways to incorporate these unique materials into modern collections giving us timeless pieces that are sure to leave a lasting impression wherever you go!
Types Of Ostrich Feathers
Ostrich feathers have been a glamorous touch for bridal and formal wear throughout the ages. From Victorian-era gowns to flapper dresses of the Roaring 20s, ostrich feathers have added an air of elegance to fashion trends around the world. But where did this trend begin? Let's take a look at the history of ostrich feathers in fashion.
The use of ostrich plumes dates back as far as Ancient Egypt when they were used primarily for ceremonial garb and headdresses; Pharaohs proudly adorned their clothing with these beautiful feathers. In Renaissance Europe, ostrich feathers rose in popularity due to Queen Elizabeth I who was often seen wearing them on her garments and hats. By the 19th century, large ornamental fans made entirely out of ostriches had become fashionable accessories among the wealthy elite.
Today, while not quite as popular as they once were, ostrich feather accents are still frequently found in wedding veils, prom dresses, evening gowns and other special occasion attire. One major factor that has kept this trend alive is its potential versatility - some styles feature full feathered skirts or bodices while others may just incorporate small details such as trimming or rosettes. Each option provides a unique yet timeless statement piece that draws attention to any ensemble without overshadowing it completely.
This versatile material is also relatively inexpensive compared to other materials like silk or lace which makes incorporating it into your wardrobe more accessible than ever before! Whether you decide to go big with a dramatic skirt or opt for something subtle like delicate trims, there's no doubt that adding ostrich feathers will give your look an effortless sense of glamor that can't be matched by anything else.
Using Ostrich Feathers In Headpieces
Flourishing with an air of sophistication, ostrich feathers add a timeless elegance to any bridal or formal look. From the subtle feathering along the edges of veils and gowns to more elaborate headpieces, this eye-catching accessory is sure to make a lasting impression.
Headpieces are one of the most popular applications for ostrich feathers in wedding fashion; by incorporating them into your special day you can bring together both traditional and modern elements. The classic veil is often adorned with a few soft plumes around the edges for texture, while some choose to go bolder with a full-feathered fascinator featuring multiple layers of feathers cascading down from a central base. If you're looking for something truly unique, consider combining different styles for an unforgettable effect: perhaps combine long sweeping feathers with intricate beading or delicate lace trimmings.
To ensure that your feathered headpiece looks its best on the big day it should be carefully selected and tailored to fit perfectly. Don't forget to take into account other details such as fabric type, color scheme and embellishments when selecting your materials - these will all contribute to the overall aesthetic of your ensemble. Additionally, if you plan on wearing heavier pieces like detailed crowns then make sure they have plenty of support underneath so that they don't cause discomfort during wear.
When teamed with beautiful fabrics, luxurious laces and sparkling gemstones, ostrich feathers provide a touch of glamor that no other accessory can offer – making them essential additions for any bride or formalwear enthusiast who wants their outfit to stand out from the crowd!
Decorating Veils With Ostrich Feathers
Decorating veils with ostrich feathers is a stunning way to add an element of glamour and romance to bridal or formal wear. Feathers are incredibly versatile, allowing for a variety of styles that can be tailored to each individual wearer's unique aesthetic. Whether it's just one or two plumes gracefully cascading down the back of the veil, or an entire cascade around the face, the effect is always breathtaking.
When adding ostrich feathers to wedding gowns and other formal attire, feather trim can be added in several ways: scattered across hems and cuffs; delicately edging necklines, sleeves and skirts; carefully placed as appliques; or simply draped along seams. Each technique has its own special charm that helps bring out the beauty of the material being enhanced. Ostrich feathers come in many colors, sizes and textures so they can easily be matched up with any kind of fabric used in either daywear or evening wear.
In addition to their aesthetic value, ostrich feathers provide another function – movement! When walking into a room wearing a dress adorned with such luxurious detail, you can expect to make quite an entrance! The rustling sound these feathers create adds drama and brings attention to your outfit with every step you take - making sure all eyes will be on you when you arrive at your destination.
No matter how it's done, decorating garments with ostrich feathers is guaranteed to give them that extra bit of pizzazz needed for a truly glamorous look – perfect for creating unforgettable memories on any special occasion!
Accentuating Gowns With Ostrich Feathers
The texture of ostrich feathers adds an undeniable glamor to any bridal or formal wear. The graceful movement of the plumes is eye-catching, and can be used in a variety of ways to bring out the beauty of whatever garment they adorn. From full skirts that sway with each step to delicate bodices lined with feathery fringes; ostrich feathers offer a unique way of making a statement at special occasions.
These plumes come in many different shapes and sizes providing limitless options for styling them into gowns. They may be arranged as a single layer to create subtle accents or layered up in multiple shades for more dramatic effects. Smaller feathers are perfect for outlining necklines, hemlines and waistbands while larger ones make stunning details on sleeves and backs. For those who prefer something even bolder, whole swaths of feathers can be draped across shoulders or around the waistline creating dramatic silhouettes.
For those looking to add some sparkle, metallic tones can take these feathery designs one step further! Gowns featuring shimmering gold, silver or copper plumes will draw attention from all corners - perfect for when you want to stand out from the crowd. When it comes to incorporating ostrich feathers into your look there really are no limits – just let your imagination run wild!
From adding pops of color to making extravagant statements; ostrich feathers have been used by fashion designers time and time again due to their timeless elegance and versatility. Whether you opt for a classic style or prefer something more daring; this luxurious material has everything you need to accentuate your gown like never before!
Creating Centerpieces With Ostrich Feathers
Ostrich feathers offer an elegant and glamorous touch to bridal and formal wear, making them a must-have for any occasion. With their unique texture and shimmering hues, ostrich feathers can be used to create stunning gowns that will truly make you stand out on your special day. But the uses of these amazing feathers don't end there! Ostrich feathers also provide endless possibilities when it comes to creating one-of-a-kind centerpieces for events.
There are numerous ways in which ostrich feathers can be incorporated into breathtaking centerpiece displays. Whether you want something subtle or over-the-top extravagant, ostrich feathers are sure to bring your vision to life. From cascading feather arrangements to tall display stands with bright pops of color, they add depth and dimension while being incredibly eye-catching. Plus, depending on what look you're going for, they come in all different shapes and sizes so you can find exactly what works best for your event theme.
One great way to use ostrich feathers as part of your table decor is by using individual singles or clusters mixed with other elements like floral bouquets, crystals or beads for extra sparkle. This creates a beautiful visual effect that will draw every guest's attention at first glance - perfect for adding some wow factor to any setting! You could also try incorporating larger plumes such as peacock tails along with smaller pieces like fluffy puffs from mini roosters; this combination results in a dramatic statement piece that won't soon be forgotten.
No matter how big or small the gathering may be, including ostrich feather accents in your centerpieces is sure to capture everyone's admiration. These lovely decorations allow you to express yourself creatively while bringing all the beauty of nature right into the room - creating unforgettable memories that last long after the party ends.
Matching Ostrich Feathers With Accessories
When it comes to formal or bridal wear, ostrich feathers are a glamorous touch that really elevates an outfit. Adding the perfect accessories with your ostrich feather attire can make all the difference in creating a show-stopping look. From jewelry and headpieces to shoes and handbags, here's how to match up those beautiful plumes for maximum impact.
Jewelry is one of the easiest ways to add color, sparkle, and shine to your ensemble while still keeping it lightweight enough to show off your feathered friends. Look for pieces with subtle details like crystals or pearls that work well with the decorative nature of the feathers without overpowering them. For a more dramatic effect, try pairing statement earrings or necklaces with bolder colors such as reds, blues, or greens – just be sure not to go too overboard.
Headpieces are another great way to showcase your style when wearing ostrich feathers. Whether you choose something classic like a tiara or opt for something more modern like an embellished hair clip, these pieces will help tie together your entire look. Be sure to pick something that complements the texture and hue of your chosen feathery accessory so everything looks cohesive from head-to-toe!
Shoes and handbags also play an important role in pulling together an outfit featuring ostrich feathers. Choose heels that have some kind of shimmer or metallic detail if you're going for evening wear; this will glitz up any plain dress but won't take away from the uniqueness of the feathers themselves. As far as bags go, go small – think clutch size – so they don't detract from the overall drama of your ensemble. With these final touches in place, you'll be ready to flaunt your fabulous new look!
Styling Ostrich Feathers For Special Occasions
When it comes to special occasion styling, nothing can quite compare to the beauty and elegance of ostrich feathers. From wedding dresses to formal gowns, these luxurious feather accents are always sure to make a statement. With so many different ways they can be used in clothing designs, there's no limit when it comes to making your look truly unique. In this section, we'll explore how you can use ostrich feathers for your next event or celebration.
When choosing the right feathers for an outfit, the first thing to consider is color. Ostrich feathers come in a variety of colors ranging from soft pastels to vibrant hues – so you're bound to find something that fits perfectly with whatever style you have in mind! You may also want to think about texture as well; some varieties feature fluffy downy tips while others have more structured vanes. Depending on what kind of effect you're trying to achieve, this could play a role in deciding which type of feather works best for your design.
Once you've chosen the perfect set of feathers for your look, the real fun begins: accessorizing! To really bring out their glamorous touch, try adding touches like pearls or gems around their edges. Alternatively, if you'd prefer a simpler approach then why not opt for a headpiece made entirely out of ostrich feathers? Both options will definitely add flair and pizzazz that won't go unnoticed by guests at any party or gathering.
No matter how much glitz and glamor you choose to incorporate into your ensemble, one thing's certain -- incorporating ostrich feathers into your wardrobe is a surefire way to ensure all eyes are on you! They provide sophistication and luxury without being too over-the-top – just enough sparkle and shine that makes them stand out amongst other outfits worn at events such as weddings or black tie affairs. So whether you're dressing up for prom night or attending a gala ball - don't forget those gorgeous ostrich feather accents!
Caring For Ostrich Feathers
Having discussed the styling of ostrich feathers for special occasions, it's time to move on and discuss how to care for them. Taking good care of your feather pieces will ensure that they remain beautiful and glamorous for years to come!
Firstly, you should always store your feather items away from direct sunlight or any other form of heat source. Sunlight can fade the colors in feathers as well as cause damage to delicate quills. It's best if you keep them in a cool area with plenty of ventilation. If packing away your feathers for long periods of time, wrap them in acid-free tissue paper before placing them into sealed containers.
When cleaning your feathered bridal wear or formalwear, do not attempt hand washing or machine washing; instead take it to a professional dry cleaner who has experience in dealing with delicate fabrics such as those found in ostrich feathers. The key here is to avoid using harsh chemicals and solvents which could potentially ruin the material over time. Additionally, never brush or comb out the feathers as this will damage their natural shape and texture - only use a lint roller or soft clothes brush when needed.
Finally, be sure to inspect your feather garments regularly for signs of wear and tear – look closely at each individual feather for tears, breaks or fraying edges. If these are spotted then take action quickly by having repairs done professionally so that further damage can be avoided. With proper upkeep, you can enjoy wearing your gorgeous feather pieces again and again!
Conclusion
Our conclusion is that ostrich feathers add a glamorous touch to both bridal and formal wear. Their elegant, eye-catching look can make any outfit stand out and create an unforgettable occasion. With the right care, you'll be able to enjoy your feathered creations for years to come.
From headpieces to gowns and centerpieces, there's no limit to what you can do with ostrich feathers. Whether it's a wedding day or a special event, they bring an extra bit of glamor that will have everyone talking. So don't hesitate - show off your feathery flair and be the star of any affair!